WrestleMania 2019 Season Begins On Monday January 7, 2019
Posted by: goukijones Jan 4, 2019 | 486 views | 3 comments
First of all, thank you to all of the members playing along on DropTheBelt.com. We hope to make some grand improvements to the website and bring you even more Fantasy Wrestling content in 2019! We'll have another post on that in the coming weeks.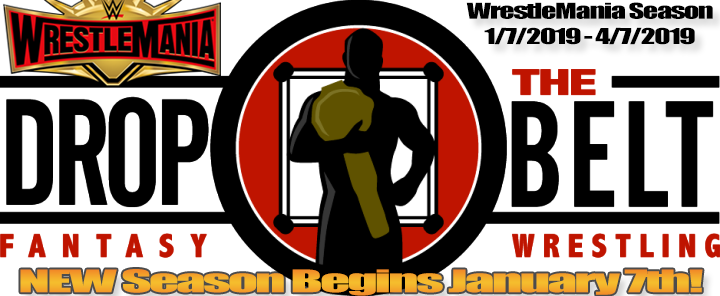 WrestleMania 2019 Season Rule Additions
Season Opener.
10 Points. The first wrestler shown on live television during the season opening scored program.
Fade to Black Season Finale.
10 Points. The wrestler that gets the final Fade to Black of the season.
Drop The Belt.
75 Points. Giving up the belt. Leaving the belt in the middle of the ring and vacating the championship. Giving the belt up to a McMahon, Commissioner or General Manager.
After WrestleMania if 205Live remains a recorded show we will no longer score 205Live. We do not score recorded segments or shows. 205Live was moved to Wednesdays this last season and it may not be coming back to Live on the Network. Wrestlers from 205Live would become Superstars in the catalog until they are assigned to a brand. The 205Live Championship will be paused.
We have discussed raising the point values for the Women's Championships. We believe we will also be adding Women's Tag Team Championships. We will wait until after WrestleMania to make an announcement.
Everything for this season is the same as last season. We've just added 3 new rules.
Good luck to all of our Members! Have fun!