NXT Launches On DropTheBelt Fantasy Wrestling
Posted by: grrrtygirl Sep 16, 2019 | 408 views | 8 comments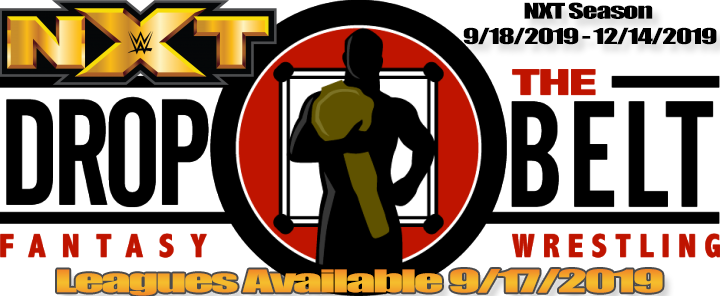 Tuesday, September 17, 2019.
DropTheBelt Fantasy Wrestling is proud to announce the launch our NXT Fantasy Wrestling Game. NXT Fantasy Wrestling will be separate from our WWE Fantasy Wrestling Game. It will have a different website and be available through subscription only. During the start of our NXT Fantasy Wrestling game only DTB Subscribers on the Champion ($9.99) tier or higher will be able to create a League or join our Exclusive Matchmaking game.
NXT Fantasy Wrestling will have its own unique domain, roster, rules, news blog and schedule. After launch we will add a Superstar ($5.99) tier and Subscribers will be able to create smaller Private Leagues and play in our Exclusive NXT Matchmaking Fantasy League. Currently the only way to create a Private League or join Matchmaking for NXT is with a DropTheBelt subscription. To play in a Private League is free, you must be a DropTheBelt Member (have a verified account) and be invited by a Private League Commissioner.
---
Welcome to...
The website is now LIVE! Please note that you will have to sign into the website with the same username and password that you use for DropTheBelt.com. This allows us to link your accounts. Subscribers in the Champion Tier ($9.99) will have first access to create Private Leagues and be able to invite up to 9 friends to join.(10 total) Subscribers will also have 1 Matchmaking Token available. NXT Matchmaking is EXCLUSIVELY for Subscribers to DropTheBelt Fantasy Wrestling. If you are experiencing any issues, please send a Help Request and I will contact you personally to make sure everything is in working order.
As NXT.DropTheBelt.com is launching our 2 main goals are to make sure we can keep score and allow subscribers to Draft and form Private Leagues. Not all features are available at launch. We will be working to add them throughout the week. AEW Fantasy Wrestling will be launching soon to give DropTheBelt Subscribers even more wrestling excitement!
Thank you for your patience and your support as we work to bring you the best Fantasy Wrestling experience possible.
Thanks for playing and good luck this season!