NXT Goes LIVE Weekly. KOTR Bracket Update. Ronda's Severed Finger!
Posted by: grrrtygirl Aug 21, 2019 | 368 views | 3 comments
Draft, Dodge and Dirt. Injury and Rumor Report 8/21/2019
NXT
NXT is going LIVE on Wednesday nights on USA Network beginning on September 18th at 8pm ET with a 2 hour run time.
....GET READY.#WeAreNXT @WWENXT @USA_Network @slipknot pic.twitter.com/xK90akihcL

— Triple H (@TripleH) August 20, 2019
The King Of The Ring
New bracket has been updated. Here is where it stands so far.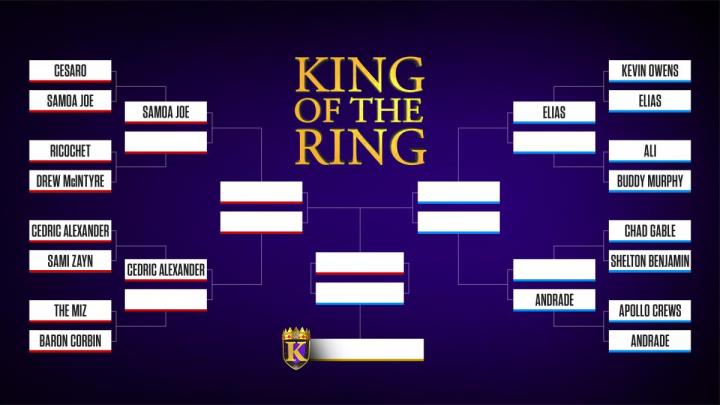 Added To The DropTheBelt Roster
Isaiah "Swerve" Scott and Angel Garza have been added to the DropTheBelt roster.
Ronda Rousey
Sustained a severe injury to her finger while filming a weekly episode of 911 on FOX which she will be appearing in a recurring role. WARNING the picture shows Ronda's finger hanging off. She is reporting that she is fine and has full mobility already. I think she will be back in the ring come October.
---
DODGE
WWE Injury List
Jeff Hardy
Knee Surgery - Expected return 2020
Jinder Mahal
Knee Injury - Surgery June 28, 2019
Lars Sullivan
Knee Injury - Expected return 2020
Maria Kanellis
Pregnant - Expected return 2020
Mickie James
Knee Injury - Surgery July 16, 2019
Nia Jax
Double Knee Surgery - Surgery April 25, 2019
Paige
Neck Surgery - Surgery August 14, 2019
Ruby Riot
Shoulder Surgery - Surgery May 22, 2019
Sheamus
Concussion - Last match was April 9, 2019
Tommaso Ciampo
Neck Surgery - Expected return 2019
---
DIRT
NXT
Rumor is that nothing will change with production with the move to LIVE TV on USA Network. Apparently USA offered WWE $50 Million to air it LIVE weekly.
Superstars
Word is spreading that WWE will move some of the Superstars from the main roster to NXT to allow them more air time. This will be an interesting fall for wrestling fans.
---
DETAILS
XFL
The teams for XFL were announced today. Vince will be spending most of his time working on the February launch of his football league and turning most of the WWE day to day running to HHH, Stephanie and Shane.
Squad. #XFLTeams pic.twitter.com/Og4yKW07c4

— XFL (@xfl2020) August 21, 2019
Married his longtime girlfriend Lauren Hashian in Hawaii over the weekend.
---
Thank you for reading. Make sure to follow @DropTheBelt on Twitter and Like us on Facebook for all the latest news for Fantasy Wrestling.
Check out WWE Merchandise on Amazon.